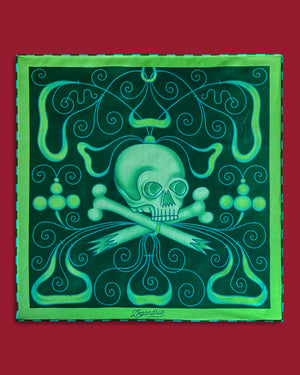 Memento Mori I - 45cm Silk Neckerchief
This neckerchief takes direct inspiration from a 17th century panel of a set of priest's robes, likely worn during funerary services. The skull and crossbones motif would have served as a reminder to the congregation of the transitory nature of life, and while the purpose of this would have been intended to inspire loyalty to the Church, I hope it serves as a reminder that we should treasure the time we have, and fill our lives with joy, love, and pleasure. 
Illustrated in rich shades of arsenic and malachite inspired by the Victorian-era craze for toxic shades of green, this neckerchief is constructed from deliciously soft (yet surprisingly durable) silk twill, mirror-printed on both sides of the fabric to ensure vibrancy from any angle, no matter how you tie it. It's intentionally sized to work as either a pocket square or neckerchief, and it looks fabulous tucked into a breast pocket, knotted chicly at the neck, tied to a purse strap, or however else you might choose to wear it. 

This illustration is limited to an edition of only 25 silk neckerchiefs and will never be reprinted. 
Constructed from 100% mulberry silk twill
Measures 45cm x 45cm
Double-sided digital printing
Finished with a hand-sewn rolled hem
Packaged in a branded gift box 
To care for your scarf, dry cleaning or gentle hand washing with a silk-safe detergent is recommended.