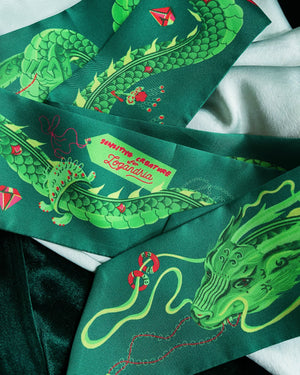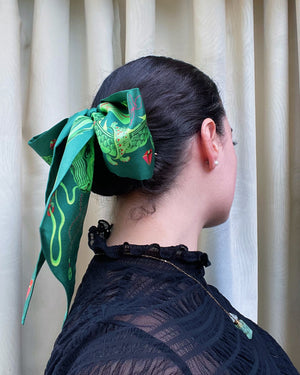 Jade Dragon - Twilly
In this scarf illustrated by artist Lee Woolhiser, AKA Sensitive Creature, a sinuous Chinese dragon in shades of jade and peridot snakes across a background of rich emerald green. Tang Dynasty riches are clutched in his claws, wrapped around his tail, and even sticking out of his side, in the case of a pair of hair pins. A few of the treasures, like the crown he holds with his tail, are artifacts seen in portraits of China's only female ruler, Empress Wu Zetian, suggesting that our charming dragon may have acquired these jewels through cunning and mischievous means...

This long silk scarf is constructed from two layers of pure silk twill, with vivid digital printing on both sides. It looks fabulous tied as a cravat, a hairbow, a belt, or however you may wish to style it.

This illustration was limited to an edition of only 75 silk scarves in 2023 and will never be reprinted.
Constructed from 100% mulberry silk twill

Measures 9cm x 165cm
Digitally printed double-layered fabric
Packaged in a branded red gift box
To care for your scarf, dry cleaning or gentle hand washing with a silk-safe detergent is recommended.