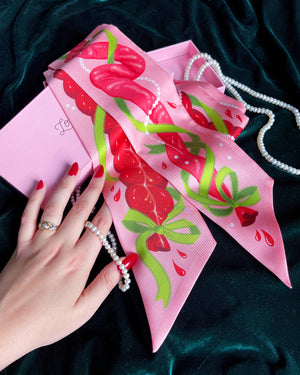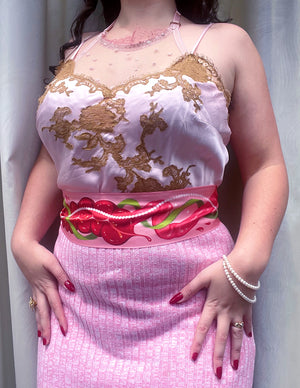 Ribbons of Entrails III - Twilly
"I'll have your guts for garters!" 
Back in a pretty new colorway of blush-pink and poison-green, the Ribbons of Entrails scarf is illustrated with intestines, strings of pearls, and lengths of green ribbon (paying homage, of course, to the classic children's horror story, The Green Ribbon). This long silk scarf is constructed from two layers of pure silk twill, with vivid digital printing on both sides. 
In lieu of the entrails of your enemies (for now), this long skinny scarf looks fabulous when worn as a cravat, a belt, a headband, a hairbow, or however you wish to style it. The coordinating Anatomical Venus square silk scarf can be found here.

This illustration was limited to an edition of only 75 silk scarves released in 2022 and will never be reprinted. 
Constructed from 100% mulberry silk twill

Measures 9cm x 165cm
Digitally printed double-layered fabric
Packaged in a pink branded gift box
To care for your scarf, dry cleaning or gentle hand washing with a silk-safe detergent is recommended.