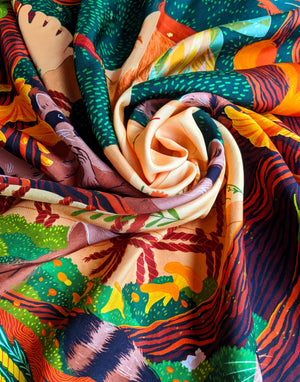 Tied Piper - Silk Scarf No. 4
In a palette of rich woodland hues, the Tied Piper scarf re-imagines the folktale of the Pied Piper of Hamelin. In this portrayal, rather than kidnapping all of the children of Hamelin after not being paid for a freelance gig, the Piper is captured by a group of cunning forest creatures and forced to play his flute 'til the end of his days. (Which, unless the raccoons remember to feed him, shouldn't be long!) Hidden in this scarf, you'll find dozens of delightful details such as cheeky little animals, practical knots for joining ropes, and some of my favorite wild edible mushrooms.
This illustration was limited to an edition of only 50 silk scarves released in 2020 and will never be rereleased.
Constructed from 100% silk
Measures 90cm x 90cm
16 momme twill
Double-sided digital printing
Finished with a hand-sewn rolled hem
Packaged in a branded gift box
To care for your scarf, dry cleaning or gentle hand washing with a silk-safe detergent is recommended.