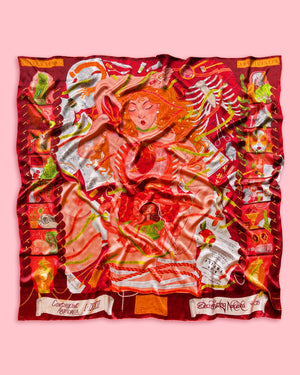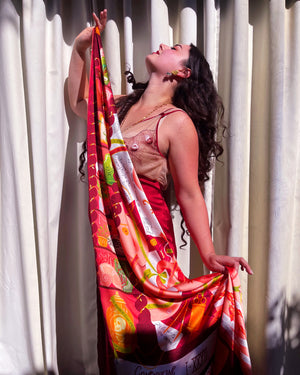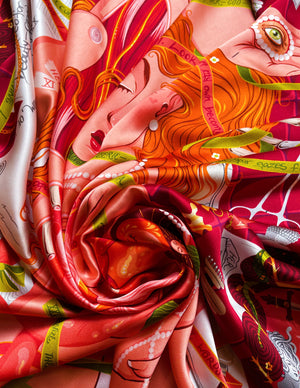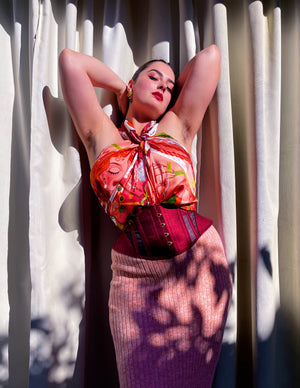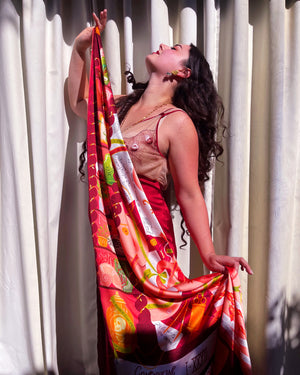 Anatomical Venus - 135cm Silk Scarf
The Anatomical Venus is a medical and artistic marvel — a life-size wax woman with dissectible, anatomically correct layers that fit together in perfect puzzle pieces. She was created in Florence, Italy in 1780 to teach the public about anatomy and was intended to be the Venus of Science on the Grand Tour. While the Venus is miraculous in her precision and artistry, it is her paradox that has enthralled audiences for centuries. She occupies the liminal space between art and medicine, science and religion, natural and artificial, macabre and sensuous, and ethereal and deeply embodied. 

Much like the Anatomical Venus, whose layers reveal more together than apart, this scarf is intended to be a paradoxical puzzle for you to piece together. There are two sonnets scattered across the scarf: one in the voice of the Venus' creator and one in the voice of the Venus herself. 
This scarf is a collaboration between illustrator Logan Spector and poet Danielle Roberts. All details are inspired by the teachings of Joanna Ebenstein of Morbid Anatomy, who (literally) wrote the book on the Anatomical Venus.

This extra large square silk scarf looks excellent worn around the neck, tied as a blouse, worn as a shawl, or however you wish to style it. A coordinating long skinny scarf can be found here. 

This illustration is limited to an edition of only 150 silk scarves and will never be reprinted. 
Constructed from 100% mulberry silk satin

Measures 135cm x 135cm*
Double-sided digital printing
Finished with a hand-sewn rolled hem
Packaged in a dark red branded gift box
*Please note that the sample photographed in these product photos measures 127x127cm. The actual scarf is a little larger, measuring 135x135cm, making our slashed beauty larger-than-life-sized.
To care for your scarf, dry cleaning or gentle hand washing with a silk-safe detergent is recommended.