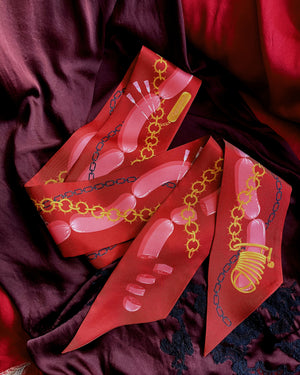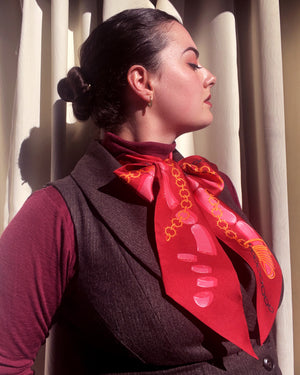 Chained Links - Twilly
Someone's been torturing the meat again! Links of sausage entwined with chain and pierced by needles run the length of this scarf, while a sausage in a gilded cage decorates one end and a sausage cut into slices dances along the other end. The background is a deep red close to the color of slightly oxidized blood; it's a dark brick red in most lights, but looks almost plum in some lights.
This long silk scarf is constructed from two layers of pure silk twill, with vivid digital printing on both sides. It looks fabulous when worn as a cravat, a belt, a headband, a hairbow, or however you wish to style it.
This illustration is limited to an edition of only 65 silk scarves and will never be reprinted. 
Constructed from 100% mulberry silk twill

Measures 9cm x 165cm
Digitally printed double-layered fabric
Packaged in a blood red branded gift box
To care for your scarf, dry cleaning or gentle hand washing with a silk-safe detergent is recommended.