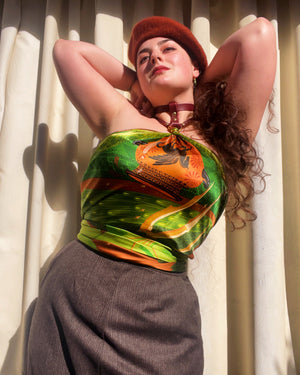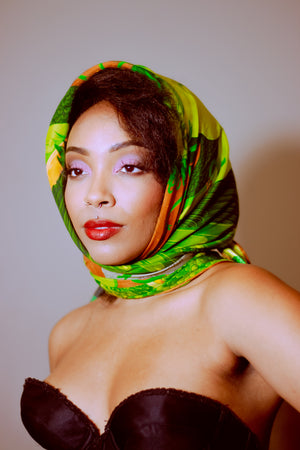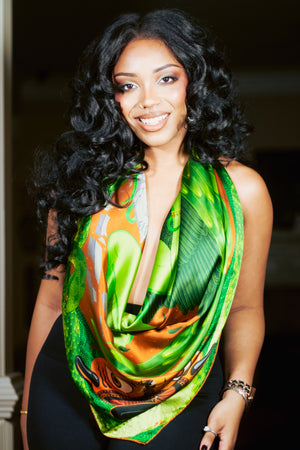 Medusa - 105cm Silk Scarf
In shades of mossy greens and shining bronze, this scarf focuses on the feminine rage, grief, and power of Medusa. Though Medusa is a minor character in Greek mythology whose myth has undergone countless retellings throughout millennia, her endurance in modern culture speaks to the staying power of strength in the face of cruelty. Here, Medusa gazes directly at the viewer with teeth bared, wielding the trident of the god who assaulted her in one hand, a snake in the other, and the lapidified head of a would-be attacker beneath her foot. She wears an image of herself on her breast -- like Athena and so many generals will wear her image for strength and protection -- thus claiming her power entirely as her own.
Images of Medusa have long been used to avert evil -- 
on buildings, armor, weapons, and elsewhere -- and so apotropaic symbolism has been woven into the border of this scarf. The wine cups with eyes, two hidden evil eyes, and a certain word hidden in the markings of the snakes all work towards this goal of symbolic protection for the wearer. 
If you'd like to read about more about some of the symbolism and art history references in this scarf, you read the blog post I wrote about it
here
. 
This versatile square scarf is constructed from deliciously soft silk satin, mirror-printed on both sides of the fabric to ensure vibrancy and decadence no matter how you tie it. It looks equally fabulous when draped around a neck, tied as a blouse, or worn over hair.
This illustration is limited to an edition of only 150 silk scarves and will never be reprinted.
Constructed from 100% mulberry silk

Measures 105cm x 105cm
Double-sided digital printing
Finished with a hand-sewn rolled hem
Packaged in a branded gift box
To care for your scarf, dry cleaning or gentle hand washing with a silk-safe detergent is recommended. A care card is enclosed.