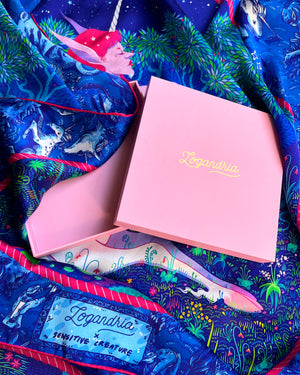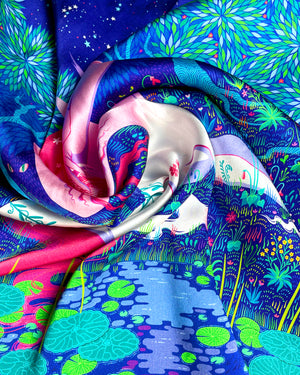 Hunt of the Unicorn - 90cm Silk Scarf
In vibrant pinks and greens on a deep blue ground, the Hunt of the Unicorn silk scarf takes inspiration from the famous fifteenth/sixteenth century tapestry series of the same name. As illustrated in the tapestries, the unicorn can outrun most hunting parties, but a unicorn is easily killed if a maiden can lull the unicorn into a false sense of security while hunters lurk in the shadows. The border of this scarf directly references this old lore, and we see the maiden in the lower left corner mourning the unicorn and regretful of her complicity, despite being as much at fault as the hunters.

Our central figure is the Unicorn Centaur, embodying the archetypal naïveté and foolishness of both maiden and unicorn. Over the centuries, her forest has grown smaller, its inhabitants have grown more desperate, and the threat of danger is ever-present. Lost in nostalgic daydreams of the magical past, she serenely brushes her hair while predatory eyes watch from the darkness.

The border was illustrated by guest artist
Lee Woolhiser
, AKA Sensitive Creature, an illustrator, animator, tattoo artist, and drag king. To see more of their illustrative work, you can follow them
here
. To see their drag, you can follow them
here
. 
This versatile square scarf is constructed from deliciously soft silk satin, mirror-printed on both sides of the fabric to ensure vibrancy from all angles, no matter how you tie it. It looks equally fabulous when draped around a neck, tied as a blouse, or worn over hair. A silk twill pocket square has been designed to coordinate with this scarf, which you can find
here
. 
This illustration is limited to an edition of only 100 silk scarves and will never be reprinted. 
Constructed from 100% mulberry silk

Measures 90cm x 90cm
14 momme satin
Double-sided digital printing
Finished with a hand-sewn rolled hem
Packaged in a branded gift box
To care for your scarf, dry cleaning or gentle hand washing with a silk-safe detergent is recommended. A care card is enclosed.