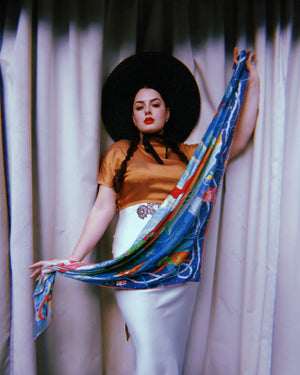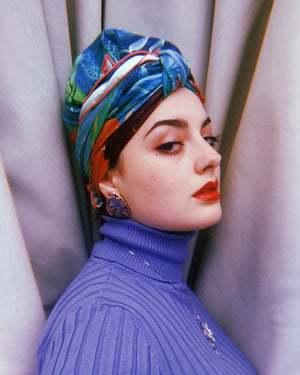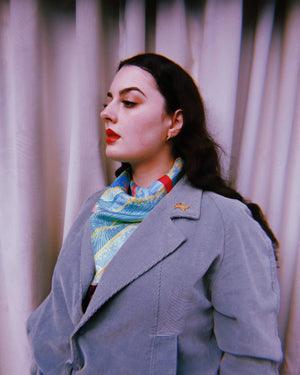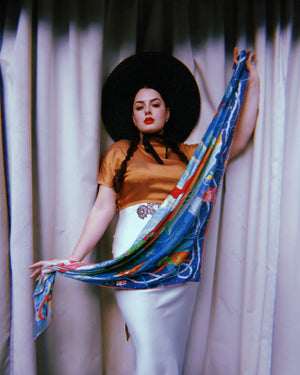 Fairy Queen - 105cm Silk Scarf
With Cora Harrington of
The Lingerie Addict
as muse and collaborator, this scarf depicts a sumptuous scene of Titania, the Queen of the Fae, reclining on a throne of living nasturtium plants, surrounded by her inner court of lesser fairies. In her hands she controls both the secretive and restorative powers of night, and the blinding and nurturing powers of day. On her head she wears an agonizing crown of thistle, thorn, poison ivy, and deadly nightshade, emblematic of the dual powers she wields. For though she is the Queen of the court of light and life and all that is good, she is still capable of profound torment and destruction -- for life is not without pain.
This versatile square scarf is constructed from deliciously soft silk twill, mirror-printed on both sides of the fabric to ensure vibrancy and decadence no matter how you tie it. It looks equally fabulous when draped around a neck, tied as a blouse, or worn over hair.
This illustration is limited to an edition of only 100 silk scarves and will never be reprinted. The coordinating silk eyemask can be found
here
. 
Constructed from 100% mulberry silk

Measures 105cm x 105cm
14 momme twill
Double-sided digital printing
Finished with a hand-sewn rolled hem
Packaged in a branded gift box
Please note: The styled photos show the scarf darker than it is. The first photo and the photo with the box display the colors more accurately.
To care for your scarf, dry cleaning or gentle hand washing with a silk-safe detergent is recommended. A care card is enclosed.