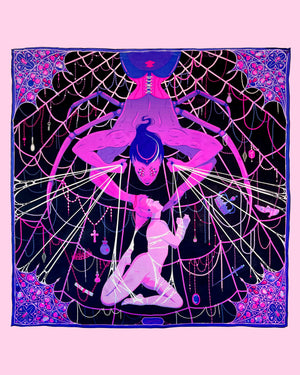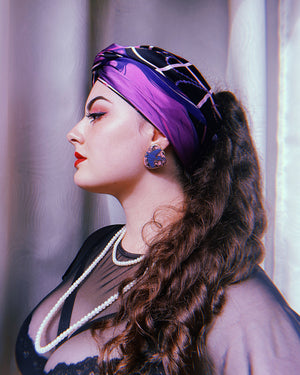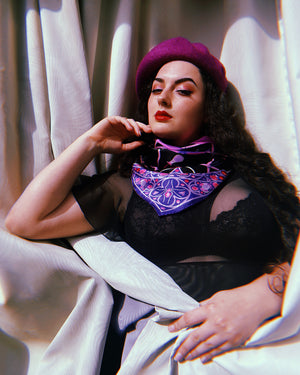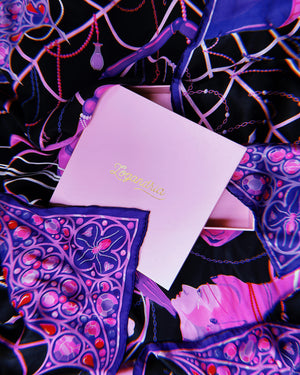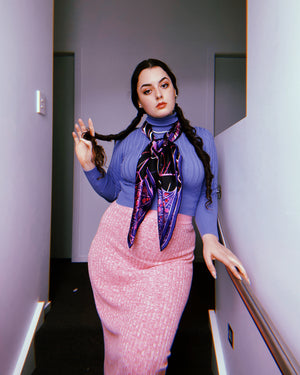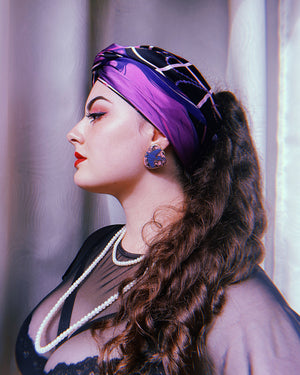 Widow's Captive - 105cm Silk Scarf
In regal shades of purple and pink, the Widow's Captive scarf illustrates the plight of a precocious noble girl who has foolishly ventured into the den of a rather fearsome beast to retrieve some bit of fabled treasure from the hoard within... only to find herself tragically captured to serve as the monster's newest plaything! If you wish to take a closer look at the details hidden in this illustration, you may do so
here
. 
For those who desire to read more about the the story taking place on this scarf, an anonymous friend has written an erotic work of fiction to accompany this scarf. The short story as been printed in a beautiful miniature cloth-bound book that can be included with the purchase of this silk scarf if one wishes. If you would like one of these complimentary books, please add it to your cart here. 
This versatile square scarf is constructed from deliciously soft silk satin, mirror-printed on both sides of the fabric to ensure vibrancy and decadence no matter how you tie it. It looks equally fabulous when draped around a neck, tied as a blouse, or worn over hair.
This illustration is limited to an edition of only 100 silk scarves and will never be reprinted. 
Constructed from 100% mulberry silk

Measures 105cm x 105cm
14 momme satin
Double-sided digital printing
Finished with a hand-sewn rolled hem
Packaged in a branded gift box
To care for your scarf, dry cleaning or gentle hand washing with a silk-safe detergent is recommended. A care card is enclosed.