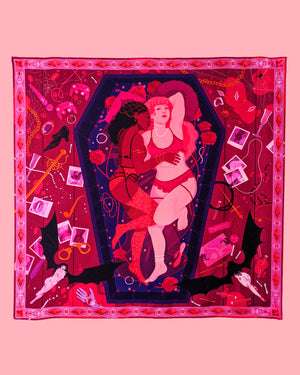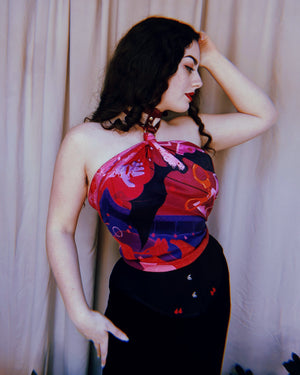 Eternal Lovers - Silk Scarf No. 5
In rich shades of blood, berry, and gold, the Eternal Lovers scarf is an 
intimate view into the personal lives of two married vampires, who are still deeply in love after centuries of union. Scattered throughout their apartment we see hints of their lives together: remnants of midnight snacks, the items they use most frequently, and scattered artifacts and mementos that they've collected over the centuries. For a closer look at some of the details hidden throughout this illustration, a compilation of crops can be viewed here.
This versatile square scarf is constructed from deliciously soft silk twill, mirror-printed on both sides of the fabric to ensure vibrancy and decadence no matter how you tie it. It looks equally fabulous when draped around a neck, tied as a blouse, or worn over hair.
This illustration was limited to an edition of 50 silk scarves released in 2020 and will never be rereleased.
Constructed from 100% mulberry silk

Measures 105cm x 105cm
14 momme twill
Double-sided digital printing
Finished with a hand-sewn rolled hem
Packaged in a branded gift box
To care for your scarf, dry cleaning or gentle hand washing with a silk-safe detergent is recommended. A care card is enclosed.