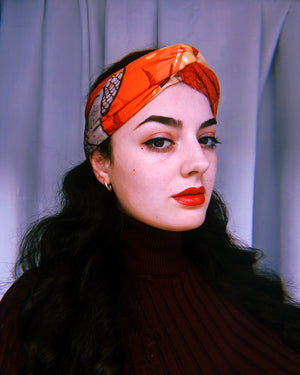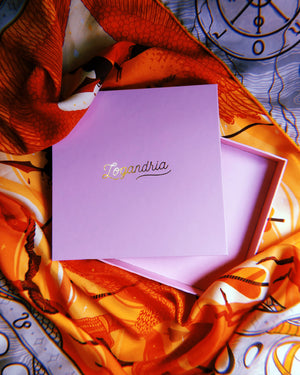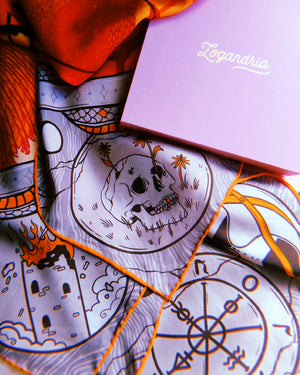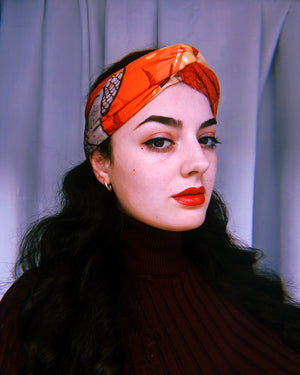 Phoenix Harpy - Silk Scarf No. 6
In warm grey and fiery shades of orange and gold, the Phoenix Harpy scarf takes a mournful look backwards at the events of the past, while remaining cautiously optimistic about the future. In this illustration, which you can view in detail 
here
, we see the Phoenix Harpy wounded by arrows in a great battle and engulfed in her own flames in the moments before her regeneration. So... it's a piece about pain and death, but it's also about rebirth and never ending cycles.
We see the themes of cycles and infinity in the stone border, with symbols like the ouroboros, the astrological year, the phases of the moon, an infinitely rotating hourglass, and new life springing forth from death. In the upper stone medallions, we see the Tarot cards "The Tower" and "The Wheel of Fortune," both of which address different types of change: abrupt and destructive change in The Tower, and cyclical and flowing change in The Wheel of Fortune. Within the context of the Phoenix Harpy, The Tower is a reflection on all that has happened, while the Wheel of Fortune looks hopefully into the future, serving as a reminder that this too shall pass.
This versatile square scarf is constructed from deliciously soft silk twill, mirror-printed on both sides of the fabric to ensure vibrancy and decadence no matter how you tie it. It looks equally fabulous when draped around a neck, tied as a blouse, or worn over hair. The matching silk
eye mask
can be found here. 
This illustration was limited to an edition of only 50 silk scarves released in 2021 and will never be reprinted.
Constructed from 100% mulberry silk
Measures 90cm x 90cm
16 momme twill
Double-sided digital printing
Finished with a hand-sewn rolled hem
Packaged in a branded gift box
To care for your scarf, dry cleaning or gentle hand washing with a silk-safe detergent is recommended. A care card is enclosed.